Cloud computing Best Practices for Small Businesses
In the last few years, we have seen rapid developments in cloud computing that have significantly motivated both small and large enterprises to adopt this smart way of computing. The value that cloud solutions add to an enterprise of any size is incredible. However, in the case of small businesses, these benefits can be overwhelming.
What is Cloud Computer?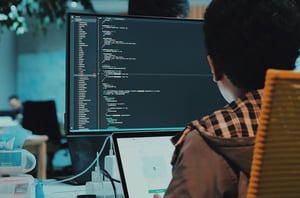 Cloud computing is the on-demand delivery of IT services over the internet. These resources and services include different tools and applications like servers, software, databases, data storage, and networking.
Instead of having their own data centers or computing infrastructure, businesses can rent access to storage, applications, and processing power from a reputable cloud service provider. These service providers enable businesses to store applications and files on remote servers and access all the information via the internet.
The basic concept behind cloud technology is that the site of the service, and other details like the operating system or hardware on which it's running, are quite irrelevant to the users. In this case, the internet normally becomes the cloud, and business data, applications, and work are available from any devices that users utilize to access the internet. That means that the user doesn't have to be in a particular location to access data, allowing them to work remotely.
Types of Cloud Computers
With every organization moving to the cloud nowadays, it's essential to understand the various types of services offered by cloud computing. We can fly our businesses, big or small, to the cloud with these three types of cloud services.
IaaS (Infrastructure as a Service)
This cloud service offers hardware resources to businesses without server management or hardware investments. With this service, users can access diverse computing resources like processing power, data storage, and networking.
PaaS (Platform as a Service)
PaaS is an advanced form of IaaS. In addition to providing the IT platform, PaaS also offers the solution stack and computing infrastructure as a service. Thus, it provides developers with a suitable framework for creating custom applications without worrying about storage and data management.
SaaS (Software as a Service)
This cloud service combines both PaaS and IaaS offerings. SaaS offers application-level services customized to various business needs. The users can get the fully-functional web-based applications on demand.
Benefits of Cloud Computer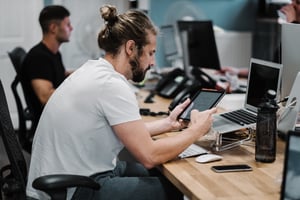 The implementation of cloud technology by small enterprises is continuing to increase in popularity. With the low upfront costs, any business can easily switch to the cloud. However, the benefits of cloud computing usually vary according to the cloud service type used. Here are some of the common benefits your small business will enjoy by switching to the cloud.
Increased flexibility and easier collaboration
Sharing and accessing files from anywhere
Using cloud servers saves companies' hard drive space
It prevents loss of business information with automatic backups
Adapts to business growth
Cloud technology allows employees to work from anywhere
It facilitates team collaboration
Cloud technology offers greater IT security and data governance
It saves on maintenance and hardware costs
Cloud computing allows businesses to access advanced technology
It reduces businesses' power consumption
Cloud technology maintains consistency between multiple users
Cloud Computer Best Practices
Cloud security is vital for businesses and knowing the best ways for securing business cloud environments is even more important. The specifics of an enterprise's cloud security plans vary based on the specifics of a company's cloud needs and usage. However, to keep your cloud environment secure, you need to have the following best practices in your arsenal.
Performing due diligence
Businesses need to fully understand their applications and networks to determine how to offer functionality, security, and resilience for cloud-deployed systems and applications. Due diligence should be performed across the entire lifecycle of systems and applications being implemented in the cloud.
Managing access control
Nobody should access business data stored in the cloud unless they've got the proper clearance to do so. Implementing access control policies can allow businesses to manage the unauthorized users that try to access their cloud environment. They can also assign specific access policies and rights to different users. For instance, low-level users will not have similar access rights as high-level administrators.
Monitoring the business cloud environment for threats
The traditional security solutions focus on defending against security threats as they attack business systems. However, it would be best if you stopped a security threat on your cloud computing infrastructure before it attacks. Threats can hide on your business cloud platform and wait for the best time to attack. By monitoring the cloud environment, businesses can discover hidden viruses and proactively take the necessary steps to eliminate them.
Protecting data
Safeguarding data involves three main challenges. They include Safeguarding data from unauthorized access, preventing unintentional disclosure of allegedly deleted information, and ensuring continuous access to important business data in the eventuality of failures and errors. Therefore, businesses should secure sensitive data using internal controls to prevent employees from downloading information from their cloud platforms, especially when using personal gadgets.
Training employees on cloud security practices
One of the biggest security threats to a business cloud environment is sometimes its employees. A staff member can misuse your business cloud environment due to a lack of knowledge or negligence. As a result, they can create loopholes for malware looking to invade your computing infrastructure. Therefore, just like with any other technology, small businesses should set apart time to train their employees on the cloud security practices they adopt. This way, they can avert internal security threats and also prepare themselves for external ones.
Conclusion
As we have seen, cloud computing has brought exciting opportunities for small enterprises to compete with others globally. Businesses can significantly reduce their IT expenses thanks to the innovative solutions that provide industry-specific software, file storage, email, and applications infrastructure via the cloud. In addition, working with a mature and reliable cloud service provider can help reduce the risks associated with transitioning data and applications to the cloud. It can also help eliminate surprise costs like emergency server repairs.