Top 4 2020 IT Trends SMBs Should Know
Randy
Dec 3, 2019 10:22:32 AM
These days, you don't have to look too far on social media to find a #10YearChallenge. Some are simple: post a photo of yourself from 2009 and another from today to see how much you've changed. Others are using the hashtag for bigger and broader things to reflect on, such as climate change, sustainability, and global conflicts.
All are significant in their own right, but without a doubt, some of the most profound changes in the last decade have been in technology, especially IT.
A Decade of Change
From the introduction of the iPad in 2010 to the recent debut of ECG-enabled smartwatches, technology has changed the way people live and work in incredible ways.
In 2009, the industry was preoccupied with mobile technologies, updated operating systems, TV alternatives and more. A brief recap of the 2010s gives a wonderful glimpse into how far IT has come and just how far it can go.
2010: Apple introduces the iPad and naysayers quickly dub it an oversized iPhone.
2011: The Chromebook offered the first hint of how computing would break free from being completely controlled by Windows.
2012: Big data takes center stage, on-line training is more acceptable, and bring your own device (BYOD) becomes a thing.
2013: Cloud computing offers game-changing SMB IT solutions and the digital and physical workplaces begin to converge.
2014: Wearable tech and the IoT are on the rise.
2015: Advanced analytics, cloud/client computing, and software-defined apps and infrastructure are an indication of where digital transformation is headed.
2016: AI, AR, and VR, IoT streamlining, data visualization and blockchain dominate the year.
2017: Intelligent assistance is becoming ubiquitous and security is becoming a huge concern.
2018: Chatbots and voice assistants are more widely accepted and big data remains big news.
As 2019 draws to a close, it's clear this was the year where organizations started to look beyond the digital frontier. SMB technology trends and IT strategies are now more focused on innovation and growth and more emphasis is being placed on people and the employee experience. Digital reality, blockchain, and cognitive technologies are just some of the newer trends starting to make their way into how people interact with their surroundings, data, and each other.
Prepare for 2020: Investing in SMB Managed Services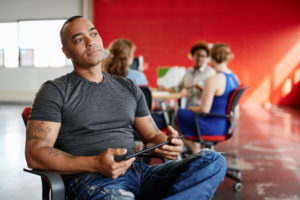 One of the biggest challenges SMBs face is deciding which technology to invest in. Your company has vastly different needs from someone else's. Some businesses want to rely more heavily on tech, others don't. On top of that, you worry over whether you're getting your money's worth and if your investment is paying you back.
Successfully managing SMB IT services has always been a careful balancing act, with budgetary constraints affecting the planning and implementation of modern solutions. The good news is that working with an IT support team gives you the expertise you need to decide which apps and programs will work best for your business.
Here are the top four 2020 IT trends we believe every SMB should know:
1. Collaboration Tools for Better Communication
A recent survey found that 43% of workers consider the best workplace as one that promotes collaboration and team building. As more SMBs embrace a remote workforce, collaboration software will become more vital than ever. Tools like Office 365 (o365) for SMB uses features like Groups, Teams, and Microsoft Planner to improve productivity no matter where employees are located.
2. Managed Services
Managed service providers offer SMBs a wealth of benefits they don't get from their usually smaller IT departments:
Enhanced data security
24/7 monitoring
Scalability
And with data breaches and other cyberattacks against SMBs occurring at higher rates, expert help is needed to safeguard and protect valuable customer and organizational data.
3. The Growth of AI
Artificial intelligence is still finding its way in the world of SMBs. Yes, it helps deliver satisfying experiences to customers, but it's clear that it isn't going to replace the human worker. Instead, it should be seen as a viable option for making operations more efficient. Processes where AI can help include:
Customer service
Data entry
Accounting
Email marketing
4. The Shift in Infrastructure Investments
SMBs that still rely on aging equipment will become unable to successfully compete. As cloud computing and serverless technology continue to grow, businesses will need to revamp antiquated equipment and inefficient practices. Although making the switch will require an investment in new hardware, software, and expertise, the cost will be well worth it when you consider how it helps mitigate downtime, data loss, and security risks.
The Bottom Line for Small Business
There have been enormous strides over the past decade, but the core of what began in 2010 is still being done today. What's changed is how SMBs are choosing to adapt and adopt. Many now acknowledge they need someone to tell them what they don't know. A MSP can act as your technology partner and will walk you through what it all means and help you find the right solutions for your unique business needs. After all, it's what you're paying for and what you deserve.