How to Secure Your Workforce and Provide a Distributed Environment
The future of work begins here. Remote work, all signs show, will be a big thing in the post-pandemic world. Companies have found ways to make it successful at this point, and many would like to carry forward the benefits and costs savings into the future. If you plan to blend on-site and remote work environments for the long haul, here is the guide to getting started.
Tips for Making On-site + Remote Work Succeed in the Long Run
1. Assess and benchmark productivity in remote versus on-site work arrangements
If a majority of your workforce has been working from home now, how is the progress? Are people able to meet their KPIs exclusively by telecommuting? Is technology fully working as expected?
What are the cost and performance implications of remote work as compared to on-site work? The first step to managing a blended work environment is establishing the efficiency of both, and finding out what needs improving.
2. Enhance collaboration environments
Telecommuting and the cloud walk hand in hand. Companies are now heavily relying on platforms like Microsoft 365 for meetings and team management. Other programs include DropBox, Google Drive, and messaging services that enable easy team-playing without being in the office.
But before you start to strengthen collaboration capabilities, broadband access should be part of the strategy in the long run. Find reliable and easy to deploy access points that your employees can plug into their internet connections wherever they are.
3. Learn how to manage a blended work environment
Working with both remote and on-site work, employees present a complex set of challenges. It can be easy to keep tabs on things with on-site workers. But managers must find ways to use the right technology to stay on top of their roles and keep remote teams working effectively.
There are many dedicated platforms for email, text, and video chat that can streamline operations in hybrid work environments.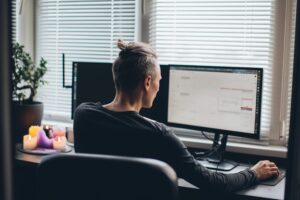 4. Maintain shared work logs
One way to keep your on-site/ remote teams working smoothly and meeting deadlines is the use of shared work logs. Let there be a written record of who is doing what and when they are expected to deliver. Be aware of where each of your employees is and what they are working for accountability. Shared work logs can help to minimize lags and missed deadlines.
5. Update your security risks
Remote working arrangements come with their own security risks. Mixing that with on-site working programs makes these challenges even more complex. Your IT team should be on point with network monitoring and access management.
For your blended work environment to work in the long run, frequent vulnerability scanning, and employee education on cybersecurity should be part of your IT strategy.
6. Address compliance issues
Blended work environments demand a newer approach to looking at compliance and your information security policy. The security challenges, in this case, encompass the cyber and physical spheres. As it becomes harder to verify who is accessing your data or what collaboration platform is risking your sensitive information, regulations are also tightening measures.
Your organization could face fines, penalties, and even suspension if data protection isn't sufficiently addressed in the blended work environment.
7. Get the right remote working technology
You will need to invest in VPNs for secure communication and data transfer between the office and telecommuting teams. Strengthening your VoIP capabilities, on the other hand, may help to cut costs and improve team cohesion and communication with clients.
At the same time, all devices carried in and out of the office must be fitted with robust anti-malware tools and firewalls for optimal security.
8. Strengthen data backup and recovery
Even with your distributed work program, data must be kept safe. All your telecommuting employees should have a backup solution for their data. They should be clear on your continuity policies and understand their role in data backup.
Alternatively, with a cloud-based solution, all data from roaming devices are automatically migrated to cloud servers 9. Provide news and updates on the regular
9. Provide regular news and updates
There can be confusion in blended work environments. Regular news and updates can help keep employees informed on everything from new projects to meetings and task deadlines. Set up email notifications, group calendars, and even an internal blog or staff webinar for that. These platforms can help the HR function to carry on smoothly from staff training to employee recognition.
The hybrid work environment can also work seamlessly if the out-of-office employees share regular updates from wherever they are and what they are working on. The point of this is to keep your teams connected, the company direction clear, and roles and responsibilities well defined.