4 Tools You Need to Build an Efficient Mobile Workforce
Randy
Sep 1, 2020 9:45:00 AM
Efficient work from home solutions are top of mind for small- and medium-sized businesses.
Some employees are working from home, others may be in the office, and the hybrid workforce is likely to be with us for the time being.
Security is a top concern. You need the highest level of protection you can get, because cyber criminals are smart, sophisticated, and relentless. True Crime! The Real-Life Story Of A Phishing Attempt. Single layers of security are inadequate. You need layers that work together.
At the same time, you also need tools that make working from home more convenient, functional and sustainable. Your teams need to collaborate, share files, and access their Line of Business (LOB) applications.
Let's take a look at the 4 tools you should be providing your employees so they can do their best work.
1. File Sharing
If your business files are located on a server at your place of business, you're probably using a VPN to allow your team remote access.
And that's a legitimate solution. The technology has been around forever. VPNs work and they are relatively cost effective. On the downside, they do have limitations.
Small- to medium-sized businesses with VPNs often hit a performance wall. If just two to four people need access to the network, you're golden, but if you've got 20+ people logged in at a time, it becomes a different story.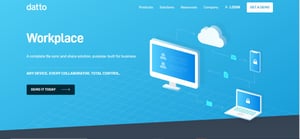 The newer, superior method is a cloud-based file server. MicroTech recommends Datto Workplace. You get secure logins with 2-factor identification and easier collaboration, email and file sharing. All users will have updated anti-malware and anti-ransomware apps, files at their fingertips, and the ability to work offline or online.
On the admin side, reporting and security are better. You can also get more granular in when it comes to access control, for example, you can grant full access to certain files to some users and prevent others from downloading or emailing those same files.
Datto Workplace also meets standard industry protocols, including finance and medical. None of these features are available through a standard VPN.
Could you use the SharePoint that comes with your Microsoft 365 subscription? Sure, but Datto Workplace does it better. SharePoint is a behemoth, a complex monster to use and administer. Most companies have teams that do nothing but administer that SharePoint. Users on SharePoint find it's hard to manage and keep organized. Data sprawl is a real risk.
Dropbox is also not the answer. Although users are familiar with it, it was built as a consumer application and it's been trying to morph itself into a business app. It's getting better but the user experience is still bumpy. Box is a better business solution, as is Ignite.
Ranking solutions as good, better, or best, Dropbox is good and Datto Workplace is best.
2. Collaboration Tools
Team collaboration tools are essential for hybrid work forces, and typically include video and audio communication, chat functions, instant messaging, and file sharing.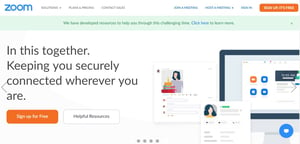 Zoom is a straight communication tool for video or voice. Zoom's advantage is that it supports a large number of participants and delivers a much better experience the more people you have.
Teams is Microsoft's collaboration platform. Teams includes video and audio communication as well as chat and file sharing. Many small businesses gravitate toward Teams because they prefer to use the Microsoft platform they already have vs. paying additional for Zoom.
But Zoom is worth investing in for larger meetings. That said, Teams is getting better. They used to have a maximum of four people per meeting, now they can handle nine. You may have to augment Teams with a Zoom account for meetings of 10 people or more.
3. Line of Business Applications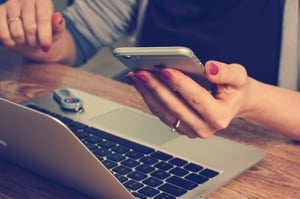 Line of Business (LOB) applications can be tougher. You may use an on-premises application, a cloud app or both.
If you're already using a cloud-based app, you're ready to work from anywhere.
But if your LOB app is on premises, then you'll need a VPN to access that server. And remember there are performance implications when you connect remotely into the network.
85% of LOB apps are not designed to run over a VPN. If a user is inside your walls, the network might run at 1,000 MPH, but when users connect through the VPN, that speed might be choked to 5-10 MPH. Your apps aren't designed for that.
You need to assess your situation. You might implement a terminal server designed to allow multiple users, and then run your LOB application through that. However, adding additional servers to access your LOB applications is expensive.
Does your LOB application offer a cloud-based version? How does it compare price-wise and feature-wise to the server version? If your LOB files are on an on-premises server, you'll need a VPN to get to that application.
Does it makes sense to get Datto Workplace, or does it makes sense to access your server the old-fashioned way?
Depending on how you work, maybe you need both a VPN to your LOB apps and Datto Workplace to make you more efficient and fluid. Or you may be able to keep things simple.
4. Security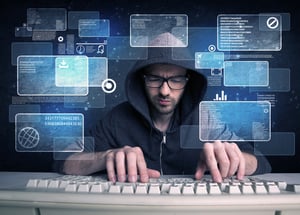 Security is the wrapper around all of your business functions. It's harder to make general recommendations because environments are different. What secures Acme Corporation may not be the best solution for Beta Company.
Here's what's non-negotiable - you need patch management, Windows security updates, an antivirus (AV) application, an internet open DNS security product, and a threat hunting agent.
Firewalls may be part of the package as well. If you keep data on a server on premises, it's required. If your LOB files are cloud-based and your email is cloud-based, you may be able to compromise and skip it.
When your teams are working from home, it raises more questions. Is everyone providing a firewall? Will the company pay for employees to expand their bandwidth at home?
Let's say one partner works from home usually, but another is now also working remotely temporarily. Add to that three kids in cyber school and it's no longer just Netflix in the evening, but 4-5 people competing for limited home bandwidth. And connections are still spotty in this area.
If you don't compromise and want firewalls at all homes, what happens when the Xbox doesn't work or when Netflix is spooling? Who pays for that support? Unfortunately, there's no good answer.
We've chosen SonicWall based on the small business market that we serve. Cisco is the industry leader and there are better products on the market, but SonicWall is reasonably priced and accessible for most small businesses (as an example, Apollo will set you back $6K, while SonicWall comes in at $1,500.) We've got hundreds of installations and the expertise to support them.
Prepare to Support a Hybrid Workforce
Make sure your IT solutions position your small- to medium-sized Boise business for both top efficiency and tight security in the long run. Call our experts at MicroTech for a demo of Datto Workplace and give your employees the tools they need.