What Does Managed Services Mean?
Randy
Nov 1, 2019 7:00:28 AM
With almost 50 years of IT support experience, we know the industry has changed and with different terminology for different things; we thought we'd set the record straight.
Managed services can mean different things to different people, so we've broken it down into three separate areas:
what managed services means to our industry,

what managed services means here at MicroTech, and

what

managed services means for small businesses.
The Evolution of Managed Services in the IT Industry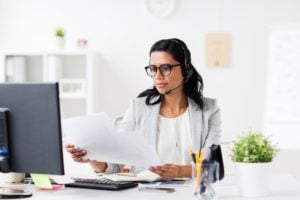 For as long as we can remember, it support started as a "break-fix" scenario. If something was broken, an IT company would come out, fix the problem, and then bill you for the service. It was a time-and-material billing platform, which worked at the time (after all, you had a problem,) but led to unpredictable costs. A true fix-it and forget-it mentality.
Today, simply put, it has become a flat-rate billing situation. IT companies provide you with a variety of remote services like back-up, remote 24/7 device monitoring, and proactive management of your network, all at a flat-rate cost, based on a level of service the partner will provide. Service Level Agreements with a fixed monthly cost are typically what managed services providers offer to fit into this category. The difference? What they provide.
The definition change meant that managed services became a more proactive model so that IT companies are monitoring and fixing things before they happen—or stopping them from happening altogether.
What Managed Services Means to MicroTech
In 1970 when we opened our doors, MicroTech provided "break-fix" services, after all, remote monitoring tools weren't around when we were selling and servicing typewriters. As technology advanced, we kept seeing the same problems and fixing them over and over again. We recognized that a break-fix approach wasn't really fixing the problems because no one was looking at what was breaking, and why. The idea of regular network health-checks became a no brainer. We would stop by our clients every month, run a few tests and catch any potential issues before they become critical problems.
To dive further, let's look at how Gartner defines a Managed Service Provider, "A managed service provider (MSP) delivers services, such as network, application, infrastructure, and security, via ongoing and regular support and active administration on customers' premises, in their MSP's data center (hosting), or in a third-party data center. MSPs may deliver their own native services in conjunction with other providers' services (for example, a security MSP providing sys admin on top of a third-party cloud IaaS). Pure-play MSPs focus on one vendor or technology, usually their own core offerings. Many MSPs include services from other types of providers. The term MSP traditionally was applied to infrastructure or device-centric types of services but has expanded to include any continuous, regular management, maintenance, and support." Today, MicroTech is a managed service provider, providing on-going support and administration services for various devices and manufacturer's profiles. From break-fix to routine maintenance to managed services; we've done it all. We've evolved and changed, of course, but our stellar service has always been the pillar for which we operate as an organization.
What Managed Services Means to Small Businesses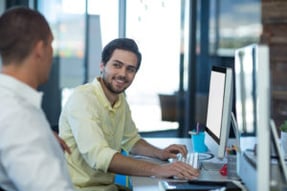 Many clients have a budget that they need to stay within while also getting the service they need. Most managed-service providers offer some of the same things, whether that be cataloging events, monitoring 24/7 IT products, or making sure your antivirus technology is working.
The way we classify support in the form of managed services is a partnership between our customers and MicroTech. Not a transaction, set of hours, and monthly bill. We don't operate under good, better, or best service. We don't stand for Mediocre, and neither should your small business.
As a small business, you should be looking for a managed service provider (MSP) that is a partner first and project manager second. To understand the difference, you need to partner with an MSP that is efficient with their time and proactive with their approach so you build a mutually beneficial relationship. When both sides are vested in your approach to management, you see value in every service and expect that when you have a problem, large or small, it is handled with expert service and detail.
Wondering how to evaluate MSPs? Here are a few services that you'll want to be sure your partner provides.
Support Operations Center


Sometimes there are simple questions that you or your staff may have about your IT network. Having the ability to call a Support Operations Center is critical to ensure expert service and mitigate potential risk. For example, at MicroTech we have multiple engineers on duty every business day to resolve problems via phone and remote access. Our customers have found this is a great way to get problems solved quickly, and it is a valuable part of our

TechCare™ program

.

Regularly scheduled visits


Just because you are working with an MSP, doesn't mean that your partner shouldn't visit regularly and actually see the network running. While you can pick a virtual MSP, you can't overlook the value of a local managed services provider. For example, at MicroTech we only support the small business community because it's important to have our network engineers visit our clients on a regular basis. As we get to know your business and your staff gets to know us, we'll be able to keep your IT systems humming along and anticipate any needs you might have in the future.

Extended support hours


Just because your contract says normal business hours or 8-5 weekdays doesn't mean your outage or network issue is going to wreak havoc on your terms. Another value of having a local MSP is if anything happens outside normal business hours, nights, weekends, or even holidays and remote remediation isn't working, you'll need someone ready to come on-site until the problem is resolved. The ability to transition quickly for remote support on on-site break-fix and back is something you won't want to take for granted.
Don't Settle for Mediocre IT
Nobody ever signs up for mediocre IT service. You need a company that understands what small businesses expect from a Managed Service Provider: trust that your network is in good hands. We're committed to delivering five-star service and we've developed this handy checklist with tips on how to determine if outsourcing your IT support to a managed services provider is right for your Boise small business.