What Will a Peek Into Your Network Activity Show You?
According to a 2020 survey, enterprises lost between 301,000 and 400,000 U.S. dollars per hour due to critical server outages. Not only economic strain, poor network monitoring leading to downtime can also reduce your reputation among customers. You can solve network issues while ensuring maximum efficiency of your network infrastructure by simply monitoring your network activity using reliable network monitoring systems.
Monitoring your network activity such as bandwidth usage, latency, uptime, connectivity, data packet loss, etc will help you detect network performance issues enabling you to proactively fix them before it affects your customers.
We at MicroTech, have been providing network monitoring services for small and medium-sized businesses for over 50 years now. From our experience, we have realized that to implement an optimal network performance monitor plan, you need to understand what network monitoring is, why it is important, which metrics to track, and optimization techniques for network monitoring.
Let's dive into all these topics one by one.
What is network monitoring?
The components of your network infrastructure include the hardware devices such as routers, WiFi, printers, phones, servers, etc as well as the software applications you use to run your business. Network monitoring systems keep a check on your entire network.
In short, network monitoring refers to continuously monitoring your network traffic, connected devices, and network activity to detect any bottlenecks and fix issues before they amplify and affect your business. It involves identifying suspicious user activity, overloading, troubleshooting issues, low-quality connections, etc., to prevent server crashes.
To solve network troubleshooting issues, you can use network monitoring protocols that provide you with crucial information like host availability, connection health, and the overall status of the network. These network management protocols are of three types – Simple Network Management Protocol (SNMP), Internet Control Message Protocol (ICMP), and Cisco Discovery Protocol (CDP). SNMP is used to monitor network status and configuration, ICMP facilitates error reporting, and CDP helps you to manage Cisco devices connected to your network.
Top 5 advantages of network monitoring
You get a bird's eye view of your network
Network monitoring systems

typically provide network performance dashboards that include information about all the devices connected to your network, how data is moving across the network, and aggregated performance metrics from different sources.

You can exactly pinpoint the problem in your network


When your network requirements grow and take the shape of different converged networks handling data, voice, VoIP (Voice over Internet Protocol), and data transmission, it becomes difficult to identify factors undermining your network performance. With network monitoring, you can easily locate the cause and source of the problem and optimize your network accordingly.
Detailed reports help you to understand infrastructure requirements
Be it historical data or performance comparison, network monitoring systems give detailed reports about your network activity enabling you to make informed decisions on when and how to upgrade your IT infrastructure.
Your business gets immunity against security threats
Data breaches and hacks pose a significant danger to your organization.

MicroTech's remote monitoring management

(RMM) system monitors your network activity 24/7, 365 days. Our remote monitoring systems raise proactive alerts and our trained technicians diagnose the issue as soon as we find any unusual network activity.
The overall productivity of your organization increases
When you outsource your network monitoring requirements to a reliable managed IT provider like

MicroTech

, your employees can focus on other business-critical missions. Our RMM tools significantly reduce the manual work of your IT teams enabling them to devote more time to your business.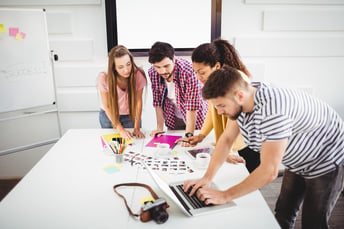 Metrics you should keep in mind while measuring your network activity
To effectively monitor network activity, make sure your network monitoring system is tracking metrics like -
Bandwidth usage - This helps you to identify network overload or bandwidth wastage as it keeps track of how much data is sent over your network.
Latency - Measuring network latency enables you to monitor how much it takes to deliver the requested data within your network.
Network connectivity - This measures the connection strength in your network.
Uptime - Tracking network availability will alert you whenever your network is down.
Packet loss and retransmission - These two metrics measure the number of data packets lost while sending data as well as the rate at which they need to be retransmitted to send the requested data.
The ultimate network monitoring checklist for tracking network traffic
Measuring the amount of information moving across your network is essential to monitor the network activity and detect unusual activity.
Here's how you can monitor network traffic effectively -
Keep track of all data sources
To gain visibility into your network traffic, you should track the route that data takes across different entities in your network, trace packet data, monitor WiFi traffic, and analyze data from devices connected to your network.
Identify which devices and applications are live on your network
It is crucial to know which devices, interfaces, VPNs, applications, and users are using your network bandwidth. You can use a network topology mapper to discover all the devices and applications on your network.
Choose the appropriate network monitoring tool
You can use network monitoring tools like Cisco's Netflow Analyzer, WebEx conferencing, etc., to monitor flow and packet data within your network.
Track network traffic from specific network manufacturer
If you are using networking equipment from Cisco, you will need tools like Cisco iWAN, Cisco SD-WAN, Cisco SD-Access, etc to monitor them.
Deploy traffic optimization techniques
After you have a clear idea of your network traffic, you can optimize it using insights for network monitoring dashboards as well as use flow and packet analysis to ensure users don't encounter jitters while using voice, video, or other communication apps on your network.


Outsourcing your network monitoring requirements will help you get professional remote monitoring services without having to employ full-time staff. In our 50 years of providing 5-star rated network monitoring services, we have managed networks of all complexities for small and medium-sized businesses. If you need budget-friendly 24/7 network monitoring services, get in touch with MicroTech today.