Why free antivirus software can do more harm than good
While the days of downloading new antivirus software from floppy disks or CDs are long gone, having up-to-date protection against cyber threats is still a very present reality. Even if the way we protect our computer systems looks different than it did in decades past, the need for protecting valuable data is more important than ever.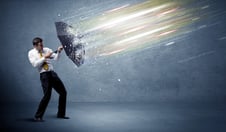 Because the antivirus software industry has changed and evolved, there are many lingering misconceptions about what these programs and tools look like in a modern context. Personal users and businesses need to maintain a strong awareness of antivirus protections in order to avoid damaging (and often expensive) data loss.
In this post, we'll clear up some of the confusion around modern antivirus software. We'll also explore the disadvantages of free tools and software and discuss how managed IT services can help secure your data.
Do You Still Need Antivirus Software?
Even in today's technology climate, antivirus software isn't completely obsolete. It does, however, look different based on the type of device you're using and how updated your device's operating system is within a current framework.
For example, iOS users do not require outside or additional antivirus software. This is because the Mac operating systems (and successive software updates) include internal antivirus protections. Microsoft Windows users, on the other hand, are still subjected to many cyberattacks and virus threats.
In the end, the decision is up to each individual user or business. Antivirus software can provide an extra layer of protection by quarantining and removing viruses, ransomware, malware, and other threats. Although the installation process might look different than it used to, the importance of having basic protection remains the same.
Disadvantages of Free Antivirus Programs
Modern antivirus programs are available in several formats. While some of these are internal (as in the case with iOS), others are available for purchase or free download.
Although "free" can be a good selling point, there are a few red flags to watch for when it comes to relying only on the protection of free antivirus software or applications.
Potential for slower system response
Free antivirus programs are typically built more broadly in order to serve a more general audience. This means that they are not crafted with your particular machine, network, or system in mind. As a result, free antivirus tools can be cumbersome and slow.
Over time, free programs might reduce the speed of your systems and have a negative impact on your team's ability to work efficiently.
Need to update and maintain frequently
Many free tools also require regular updates. Even though these updates often mean better virus protection, it's also quite time-consuming and tedious to constantly wonder whether you need the next software patch. A constant need to improve also casts doubt on the program's security abilities in the first place.
Security loopholes and vulnerabilities
When you opt for a free tool or platform, it's difficult to have complete assurance. There may be multiple security loopholes and critical vulnerabilities that hackers have already exposed. When you rely on a free antivirus program, you may be subjecting your entire framework to these unforeseen consequences.
Poor coding and framework
Free programs usually don't have the development teams behind them that fully scalable, paid programs do. A lack of resources can mean that free programs are poorly coded and not designed properly. In addition to a buggy user experience, poor coding can make it more challenging to actually protect your systems from attack and exposure to viruses.
Free Antivirus vs. Paid Antivirus
One of the most significant differences between free and paid software is that free versions are usually reactive—meaning that they respond to security threats after those issues have taken place. Paid options are usually more robust, which means that they are built to be proactive and stop attacks before they occur.
Because paid antivirus tools are more advanced, they can also respond uniquely to attacks, viruses, and other damaging threats in order to re-route or reduce potential damage.
How MicroTech IT Can Help
MicroTech IT of Boise offers comprehensive cybersecurity services to protect your business-critical systems. Our packages include security offerings that help you "lock down" your virtual doors and protect valuable data. We accomplish this through sophisticated data security and protection practices so that you can reclaim peace of mind and get back to what matters most.
Important Reminders
It's never a good idea to leave your security and virus protections to chance. As threats evolve, you need comprehensive tools to ensure that you never lose critical data or the ability to conduct business as normal.
Reach out to MicroTech today to learn more about our expert cybersecurity, backup, and virus protection services. We'll guide you on a path to better data protection—guaranteed.