5 Compelling Reasons SMBs Should Consider a Move to Office 365
In the past, you never had to worry about software sprawl. You just adopted new office applications to meet business needs as they emerged. Updates were manageable and upgrades costs weren't so disruptive because your software portfolio was limited.
Those days are long gone. With so many disparate components of office software, SMBs can struggle to keep pace with increasingly rapid update cycles. And upgrade cycles are significantly quicker (and more expensive) than they once were.
When you're running a small business, these are inefficiencies you can't afford. That's why the move to an all-in-one toolkit like Office 365 can be so valuable for SMBs.
Today, one out of five corporate employees use an Office 365 cloud service, changing the way all business leverage traditional desktop applications, now in the cloud. [Source: Microsoft] Office 365 brings together many of your standalone applications in a centralized platform that takes advantage of the many benefits of cloud computing.
It's time to turn your cumbersome on-premises Exchange server into a modern subscription service with Office 365. And here are 5 reasons why.
1. Email Beyond Your Expectations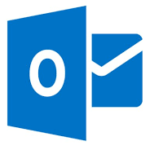 Love it or hate it, email is the number one, most-used employee productivity tool. And whether you realize it or not, the average employee spends over 6 hours per day checking emails.
With your Exchange server, downtime meant complete mail flow disruption. All those mission-critical emails went unread and unanswered until you could bring the on-premises server back online. Or, in the best-case scenario, you might have a costly backup system in place to keep email running with minimal disruption.
Moving to Office 365 helps minimize these issues. Cloud connectivity issues might cause minor delays in email delivery, but it's been years since we've seen a total outage. Thanks to cloud redundancy built into Office 365, you can easily meet a four-nines uptime threshold and ensure employees never see a disruption in mail flow.
And better yet, you get these cloud-based benefits without sacrificing the desktop functionality you've come to love in your office software. Unlike similar types of business productivity options in the cloud, Office 365 lets you install applications directly to the desktop, so you can enjoy the feature-rich software rather than pared down cloud-based versions.
2. Collaboration Is Part of the Package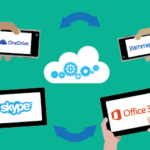 Think back to Microsoft Office 2007. In those days, you could purchase the small business package and gain access to Word, Excel, PowerPoint, Outlook, and Publisher. That's it. All the other office software you needed existed separately—collaboration tools especially.
Things have completely changed with Office 365. Now, depending on your package, collaboration tools like Skype for Business, Yammer, Microsoft Planner, Groups, Teams, and more are all built into the platform.
You can set up project teams in Groups, which unlocks a shared inbox, OneDrive folder, and Planner page to set goals and deadlines that keep everyone on the same page. Your employees enjoy seamless transfer of information and don't have to worry about anymore massive email chains. And with Planner functionality, you can start assigning tasks to individuals within your groups, setting lower-level due dates and updating tasks as the project progresses.
And soon, Office 365 will have live chat built into these collaboration services, too, so even if an employee isn't in the shared document, she can participate in the conversation.
Having all of these applications and services under one roof creates a more unified user experience that will ultimately boost adoption and productivity.
3. Security for Small Business Peace of Mind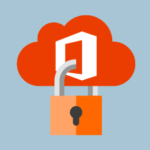 Did you know that nearly 90% of cyber-attacks are caused by human error? Whether it's theft due to employees leaving files open, downloading malicious links, or sharing corrupt files, users can quickly turn your office software into a major security vulnerability. It's sad but true.
So, it's not surprising that there's skepticism surrounding a move from on-premises applications to cloud-based Office 365. However, it's a misconception that cloud computing is less secure than on-premises. The key differentiator is always how you use the technology.
And to give SMBs peace of mind, Office 365 is built with plenty of security features that will keep your data safe. Some of our favorites include:
Encrypted Email: Make sure that the intended recipient is the only person who can read an email.
Data Loss Prevention: A set of policies that checks and prevents sensitive information like social security numbers from leaving the organization via email.
Mobile Device Management: Employees have gone mobile, but that doesn't mean you have to lose control. Use these features to lock devices or wipe their data if they're lost/stolen.
Advanced Threat Analytics (ATA): Analytics and machine learning are built into Office 365 to alert you to any suspicious behavior on the network. ATA scans emails as they come through the network, eliminating any malicious links and attachments before they reach the employee. Any opportunity to limit human error is a boon for SMB security.
There's just one caveat for Office 365 security. Not every feature is available across all plans. The key is to make sure you choose a plan that comes loaded with all the capabilities you need for your business.
4. Storage on Steroids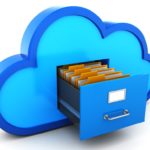 Rather than having to manage your on-premises storage, Office 365 gives each user 50 GB of storage through Exchange Online. This space can be used for email, calendar entries, tasks, notes, contacts, and any email attachments. And you can go a step further to save inbox space by taking advantage of OneDrive cloud storage to share attachments.
But the advantages of Office 365 storage go beyond space saving. Recent platform updates have boosted version control capabilities through the co-authoring feature. This feature can improve employee productivity by tracking changes made, by whom, and when. Instead of losing track of many different attachments, employees can revert back to an earlier version if/when necessary.
5. Save Money from the Start
Moving to Office 365 can result in long-term cost savings because of its ability to improve employee productivity. But you don't have to wait so long to see ROI.
Right from the start, you can lower your office software total cost of ownership because you're moving from owned hardware to a cloud subscription model. The cloud pricing flexibility alone increases cost efficiency. And better yet, if you have 20 or fewer employees, you don't even need a hosted server– that means you get to save on all the licensing and management costs associated with owning a server.
If you're curious what your savings might look like, Microtech provides a free Office 365 Consultation, click the banner below.

Office 365: Expectations and Getting Started
One of the best parts about moving to Office 365 is that migration isn't a frustrating experience. If you're working with on-premises Exchange or Google applications, Office 365 allows background transferring of email and contacts, so you don't have to disrupt service for employees.
After the initial background process, you just pick a synchronization date and redirect existing services to the new Office 365 platform. The cutover can take as little as 24 hours, so if you set it for a weekend, you can get by without any service downtime. When it comes time for the onsite cutover, we get your team functioning through Outlook Web Access first thing in the morning, so you don't experience email downtime. Outlook on the desktops is usually up and running for everyone in a few hours.
From a tech perspective, the whole process could take a total of two weeks. But with the right partner, no one in the organization will ever notice.
Here at Microtech, we help clients ensure a smooth transition to Office 365. We look at the whole picture, evaluating you and your organizational needs to provide custom-tailored recommendations for adopting the right tools at the right time.
Remember, you just don't want to dive headfirst into an Office 365 subscription without proper preparation. Questions like the following have to be considered and some alterations made to ensure the following items are addressed:
Does your business have to meet compliance?
Do you require encryption plugins for highly secure data?
Are there specific Office 365 capabilities that are more important than others for your employees?
We can help local Boise businesses create transition plans that only give you the tools and security you need to meet your specific business goals. We also work with your team to help you choose the right subscription plan so that you never overpay or under protect your data.
If you're ready to take the next steps with Office 365, reach out and let us help you evaluate if O365 is a good fit for you.