The 3 Best Microsoft 365 (formerly 0365) Packages for Small Business
Randy
Apr 1, 2020 11:16:22 AM
Small business owners these days are keenly aware of the need for digital transformation to give them a competitive edge. You can no longer get away with using outdated programs installed on your server, or email applications that aren't secure. The risks to companies of every size demand you use the latest technology, regardless of whether it's practical for you financially. Thankfully, programs like Microsoft's 365 (previously referred to as Microsoft O365) can give you a variety of hosted exchange options that enable you to keep your software up-to-date, access all the capabilities you need, and do it all at an affordable price. What's more, you don't need a complicated "tech stack" to do it with, because software-as-a-service (SaaS) often comes in the form of a bundle that lowers the cost and knowledge barriers.
The Evolution of Office 365 (o365) Newly Named Microsoft 365
The forerunner of Microsoft 365 was a product called Microsoft Small Business Server, which bundled several Microsoft products together. It included a Windows server, on-premise Microsoft Exchange, a remote access server, and a few other features, but it was capped at a maximum of 100 users. The Small Business Server reached end-of-life in January 2020, but it had long paved the way for companies to switch over to the Office 365, now Microsoft 365 platform when it was discontinued and no longer sold in 2013.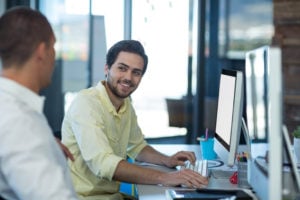 Your choice of platform depends on your needs, as well as the level of data control you want. It's worth noting that Microsoft 365 is a program leased from Microsoft, so if they are subpoenaed for your data you won't be able to decide whether or not to comply. Microsoft will take that decision.
How Microsoft 365 Works
Microsoft 365 is a cloud-based version of Microsoft Office that also contains tools like OneDrive, Skype for Business and Microsoft Teams. It works by subscription and you can choose the package or bundle that offers the best mix of applications for your needs. It's affordable enough for one-person operation and scalable enough for large corporations, and every tier comes with lots of extras. Microsoft rolls out updates regularly, so your software is never out of date, and it's a simple task to manage user access and make sure everyone installs the updates.
An Umbrella Program
Think of Microsoft 365 as a sort of umbrella program, or a broad category of programs. Under the 365 umbrella, you can get Business Premium, for example, which includes hosted Exchange, SharePoint, Teams, and OneDrive for $12.50 a user per month as well as the Office Suite of MS Word, Excel, and Outlook. Step down a rung and you'll find a package that contains a different mix of programs. You could call these the different "flavors" of Microsoft 365 because each has an individual combination of options.
Different Flavors of 365
The range of packages offered by Microsoft 365 has advantages for businesses of any size. At just $5.00 a user per month, the Microsoft 365 Business Basic package gives you the Exchange service you need plus web-based office software. A step up from Premium gets you Microsoft 365 Enterprise 3 at $20 per user per month. You also get a ProPlus option, three enterprise options, and a Home version. Most companies prefer to have desktop office software, so the business options are more popular than Essentials.
Mix 'n Match
Companies that use contractors score with Microsoft 365 in that they don't have to pay for a whole suite of services just to provide workers with an email address. You can also have some employees on Business Premium and others on Business Essentials, depending on whether or not they need the desktop applications, and if you're after VOIP-type programs you'll need the E2 or E3. This mix 'n match ability makes Microsoft 365 a real money-saver in today's small- to medium-sized business world.
View different Microsoft 365 options here.
When to Get Help
It's very easy to change plans once you subscribe to Microsoft 365. You don't even need to have all your employees on the same plan if their needs don't require it. What is important to note, however, is that some of the older versions of Microsoft applications won't work with Microsoft 365. For example, if you have Office 2010 or 2013 installed on your desktop it won't work with 365 unless you update fully, and that requires ensuring that you're in compliance with newer regulations. This is when you should consider bringing in a Microsoft partner to help you, with the installation, migration, and storage of your existing data.
Switching to Microsoft 365 is a simple, seamless process, especially when you select the right IT Services provider. It gives your small- or medium-sized business the latest, cloud-based software at all times, with watertight security for your data and communications.