COVID-19: A Remote Work Survival Guide for SMBs
Before COVID-19, working from home was something only around 7% of Americans were doing, according to the 2019 National Compensation Survey. Since mid-March, however, that number has risen to an estimated 95% of all white-collar workers, as companies across the nation take steps to protect their workers and comply with shelter-in-place and lockdown orders.
The unprecedented speed and suddenness with which telework was implemented have created a lot of challenges, particularly for small businesses. Here's how you can get through this period with your company intact.
Getting Properly Set Up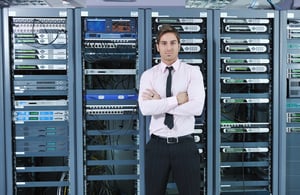 At first, you probably allowed your staff to simply take home their PCs or laptops and do whatever they could. Now that social distancing looks set to last a few more weeks at least, it's a good idea to get your remote set-up solidified. The first step is to analyze what your workers need to do.
To get your remote working capability properly set up, you'll need to be able to answer these questions:
What programs do you need to access, and where are they hosted (i.e. cloud-based, software-as-a-service, desktop installation or server-based)?

Where is

your data stored

(cloud, server or device)?

What facilities do your workers need to have at home to keep them fully productive?
Obviously, companies already using telework will be well-equipped for the shift to working from home. That doesn't mean small businesses with one or two office-based staff can't do it effectively too. Some of the challenges facing remote workers include:
Overcoming the Challenges
Small businesses have adequate technology to be able to work remotely, and your success depends on what you're trying to do and whether your business is set up correctly to do it. Many of the challenges can be overcome without a huge cash outlay. Even if the methods you choose aren't ideal in the long term, they're right for right now. Let's get through this together.
Setting up your small business team to work from home is challenging, but with the right managed services partner it's a breeze. Click here to contact us and discuss your needs.