Security: The Most Important Solution Your SMBs Should Focus on Right Now
The last few years have been a wild ride and technology has played an essential role in helping SMBs adapt to various business challenges. The work has to keep evolving, most continue to focus on cybersecurity, remote working, and cloud migration.
It's easy to dole out these buzzwords, but what exactly is happening under the hood? We work with SMBs day-in-day-out, and here are some insights from the trenches.
Rethinking Cybersecurity and Antivirus Software
Security rarely is the glamorous part. We hope that we could install an antivirus program and be done with it. Unfortunately, antivirus software can only protect you from a small percentage of today's cyber threats.
A sea change occurs in cybersecurity, which is constantly broadening in scope. We have to take a layered approach in which many components work together seamlessly to keep a network safe.
While antivirus software is still a crucial part of any cybersecurity strategy, it's no longer the be-all-end-all. For instance, it can't protect you from ransomware that's costing SMBs an average of $713,000 per incident nor phishing attacks, which is considered the top threat for 30% of smaller organizations.
Furthermore, antivirus applications are reactive. Software providers need to identify a virus, analyze its pattern, and update the programs before users are protected. The lapse between the emergence of a new threat and the software updates is more than enough time for a virus to inflict damages that you can't afford.
The latest approach to antivirus and cybersecurity has shifted from analyzing and recognizing patterns to threat detection using artificial intelligence (AI) and machine learning technologies -- a proactive approach that's more responsive to new threats.
Best Practices for Cybersecurity
Here at MicroTech, we have been taking a layered approach to IT security by stacking multiple technologies -- which we found to be the most cost-effective method to protect a network from known and emerging threats.
We implement unique tools designed explicitly for antivirus, ransomware detection and threat detection/hunting for our clients.
You may wonder, why not use just one software that covers everything?
The ever-changing cybersecurity landscape makes it almost impossible for one tool to cover everything. There's no single program on the market that encompasses all cybersecurity threats to our best knowledge. Moreover, we need to consider the price factor. Even if there were the one that covers every danger, the price point would be prohibitive for many SMBs.
Therefore, we implement multiple layers of security measures for our clients. Our approach includes using VPN, multi-factor authentication (MFA), encryption, desktop security, secure cloud storage, consistent monitoring, and staff training to cover all the bases and ensure the safety of their networks.
Supporting Remote Work... and Coming Full Circle To Security
Another critical shift for many SMBs is the transition to remote working, "How do I support Remote Working?" Instead of using an on-premise server or sending emails via Outlook, companies recognize the value of a comprehensive collaboration suite.
This highlights the importance of a cloud computing solution, allowing employees to access your network and collaborate in real-time from anywhere. Not to mention, the cloud-based Microsoft 365 offers a robust suite of collaboration tools that can help you to make remote working more seamless and productive.
Microsoft 365 isn't just about convenience and productivity. Shifting from an on-premise server to a cloud-based platform is also a matter of security and patch management.
Recently, Microsoft released a patch for a series of vulnerabilities. After we installed the patch for all of our clients using Exchange, we found out that about 30% of our clients' servers were compromised.
So, How does Remote Work Impact Windows security?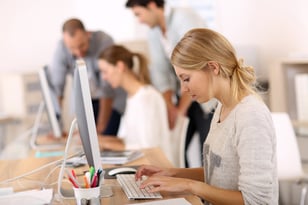 We see a shift in the old-school mindset of the cybersecurity landscape. Windows Security (formerly Windows Defender) is the built-in antivirus protection for Windows 10 - continually ranking among the top 5 antivirus protection applications in the category.
The old-school mindset that you have to pay separately for the latest and greatest antivirus software is no longer applicable when the built-in antivirus feature of your operating system (with all current updates) is just as effective, if not better, than most other programs. Not to mention, Microsoft takes care of all the updates so you don't have to worry about patch maintenance.
Migrating to Microsoft 365
For SMBs to stay current in today's business environment, they need to focus on security and support remote work. With the combination of Microsoft 365 remote collaboration and file share applications along with Windows 10 built-in antivirus protection, you "kill two birds with one stone". Furthermore, you free up your budget to invest in necessary additional security measures such as auditing and updating your IT policy, ransomware, and phishing protection.
However, switching to cloud-based Microsoft 365 involves many moving parts. That's why savvy business owners are using reputable managed service providers (MSPs) to help them orchestrate cloud migration and provide ongoing maintenance and monitoring to ensure peak performance and security.
When you work with an MSP, you'll get 24/7 support on all things IT so you can focus on growing your business—wondering what a Managed Service Provider can do for you and how to choose one that meets your needs? Download this tip sheet to see how you can get the best IT support services for your business.