How to Address 5 Common Challenges of Microsoft Cloud Migrations
According to a 2021 report, around 50% of all corporate data is stored in the cloud. And why not? There are several benefits of using the cloud for your business, such as reduced IT costs, on-demand scaling, smooth collaboration, and much more.
However, some key challenges in cloud migration include compatibility issues during data migration, lack of clarity on how to execute cloud migration, security vulnerabilities, cost transparency, etc.
Let's now dive deeper into the technical challenges in cloud migration and understand how to combat such issues.
5 Key challenges in cloud migration and how to solve them
1. Creating a plan for smooth cloud migration
Planning your cloud migration strategy is one of the major challenges in cloud migration. If not done right, it could result in huge losses. Therefore, before you table a cloud migration proposal, you should create a detailed plan on the benefits of cloud migration and how cloud migration will be executed.
From comparing the pros and cons, cost-benefit analysis, evaluating the apps and services, checking dependencies, to creating a high-level plan, you should follow a step-by-step process for cloud migration.
Microsoft's Azure Migration Center has laid down four steps to plan your cloud strategy and manage the challenges of cloud migration -
Make a high-level plan
Talk to all the stakeholders of your business
Evaluate how much costs you will save by migrating to Azure
Assess the applications you wish to migrate


2. Saving costs while migrating to Microsoft Azure
One of the key reasons companies migrate to the cloud is to reduce overall IT expenditure. If your cloud provider does not provide you with cost management tools it becomes difficult to make the most of your cloud spending.
Microsoft Azure provides Reserved Virtual Machine Instances (RI) wherein you commit to a specified level of cloud usage for 1-3 years and save up to 72% compared to standard on-demand pricing. Azure Cost Management helps you further optimize your cloud spending by monitoring and analyzing your expenditure. It is also compatible with tools like Azure Advisor that enable you to optimize your cloud environment and remove unused resources.


3.

Data migration challenges in cloud computing

When you move your database to Azure, you need to check the compatibility of your existing application storage with Azure. Check for incompatibility with supported commands and variable types to avoid losing the functions of your database during migration.

Microsoft provides several tools to mitigate data migration challenges in cloud computing. Azure Migrate analyzes if your on-premise database is ready for migration. Azure Migrate lists all the assets, detects dependencies in your database, and, most importantly suggests best practices for moving your workloads and data to Azure. Moreover, while moving your data to the cloud, Azure Site Recovery replicates your data for disaster recovery and backup with minimal downtime.


4. Securing your business data with Microsoft Azure
Microsoft offers security services as premium add-ons, meaning you need to spend more to secure your cloud environment. Moreover, Microsoft services such as Microsoft365 have vulnerabilities like trusting remote devices wherein a user-trusted device is granted long-term access and does not require any further authentication.
Nonetheless, Microsoft Azure is one of the most compliant and audited cloud platforms with over 85 compliance certifications including FedRAMP, HIPAA, ISO, ITAR, and many more. It also features Azure Security Center that automatically analyzes Azure for detecting vulnerabilities and provides security recommendations with detailed remediation steps.


5. Migrating in-house systems in the cloud
If you use third-party infrastructure apps such as point-of-sale systems of data storage facilities, migrating them to the cloud can be a task. External integrations are comparatively easier to move, however, interconnected internal systems can pose technical challenges in cloud migration.
To manage such challenges in cloud migration, it is wise to move a few applications to the cloud, test it, and then proceed with migrating other applications based on the results. With Microsoft Integration Services, you can test integrations beforehand and mitigate any downtime chances.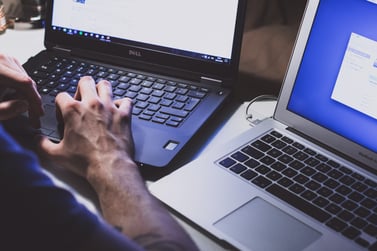 Seamlessly migrate to Microsoft 365 with MicroTech!

Be it affordable on-demand cloud storage or real-time collaboration tools, Microsoft 365 provides all the necessary tools to run small and medium-sized businesses. Microsoft provides tools and recommendations to mitigate all such issues enabling you to shift to a cloud environment without hiccups. For instance, Azure Security Center automates vulnerability detection and offers detailed security recommendations to manage security challenges in cloud migration.
MicroTech has been providing managed IT services for over 50 years and has helped several businesses migrate to Microsoft 365 seamlessly. We understand the challenges in cloud migration and thus, offer both consultation and migration services to facilitate a smooth transition to Microsoft 365. Discuss your business requirements with our Microsoft experts and we will ensure that you make the most of Microsoft 365 services!